To Create & Custom Your Unique Segment LCD Now
What is Segment LCD Display?
Segment display, is also called static display. Its key feature is each segment can be turned on / off individually and independently. A segment could be a line, dot or symbol.
Icons
A segment could be a parament unchangeable symbol, word or set of words, usually we call it icon-type segment. Any standard or customized icon are supportable.
7-segment
The most common segment LCD display version is called as 7-segment display, is looked as a "8" pattern formed by 7 independent segments. Mostly it is used to display simple information like numerical digits 0-9 and some capital letters such as B, C, E.
Variants of 7-segment
There are other extension variants like 14 16, and 22-segment LCD displays. Take 16-segment type as an example, it adds four diagonal and two vertical segments, and split the all three horizontal segments in half, based on 7-segment type. Thanks to enough independent segments, 16-segment LCD display is capable to intuitively show more complex information like letters of the Cyrillic and Greek alphabets.
Read More
Advantages of Customized Segment LCD Display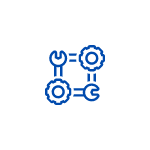 Easy Custom
Low LCD tooling cost and low MOQ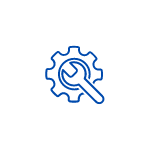 Unique Design
Exclusive design not be allowed to used for others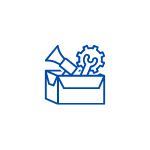 Colorful Option
Color Silk to realize colorful appearance
Stable Longevity
Supply Guarantee unless material EOL
The Features of Segment LCD Display
For segment display, its common optoelectronics type is LED, VFD and LCD type. Our Bunsun is just specialized on monochrome LCD technology type.
According to the requirement of display information complexity and display background color, there is various solutions of:
LCD technology: TN, HTN, STN, FSTN or VA.
LCD Mode: reflective, transflective, transmissive
Operating Temperature range: 0~50C, -20~70C, -30~80C or wider
Color Silk: with or without color silk
Backlight: with or without backlight
Connector: PIN, heat seal, zebra, FPC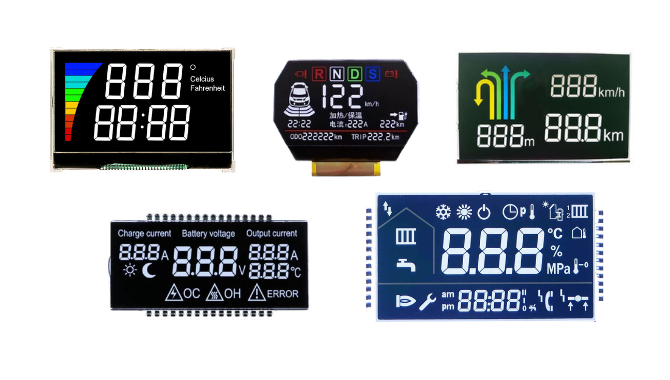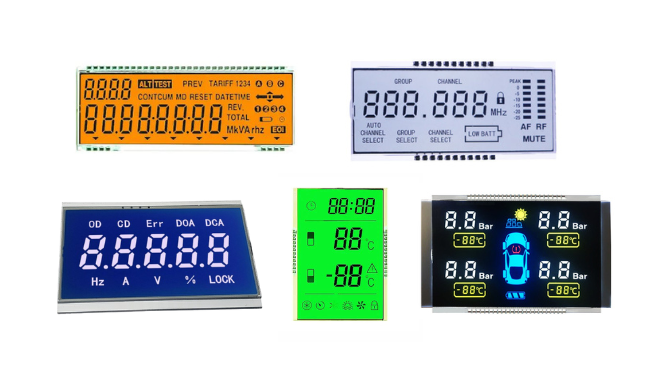 LCD Technology For Segment Display
TN(Twisted Nematic): it is the cheapest technology type. Its viewing angle is the narrowest, so is suggested to choose for driving method <1/8duty.
HTN(High TN): it is between TN and STN, suitable for 1/8duty~1/32 duty.
STN (Super TN): it is more expensive with a wider viewing angle, the best choice for product of >1/32 duty.
FSTN (Film STN): it is a kind of improved STN with specific polarizer to get better contrast.
VATN (Vertically Aligned TN) – The most typical advantage of TN display is high contrast. It is only available in negative mode. With the best partner high-brightness white backlight, pure black background with white letter to get high contrast.
Meanwhile, for segment LCD display, VA is ideal technology VA because it is easy to realize full-viewing angle due to its low d
Segment LCD Display VS Others
Although segment LCD display is old LCD technology, and display information is limited and simple, it is still popular in some fields because of below key reasons:
Low Cost
The tooling cost of segment LCD display is the lowest among all display types. It takes just hundreds $ to easy receive a full-customized LCD design.
Due to being old LCD technology, its manufacturing process is the simplest and lowest-cost. Plus the available simple structure LCD glass only or LCD+PIN, the display unit cost could be less than $1/pcs.
Low Power Consumption
Different from TFT with mandatory backlight, segment LCD type could work with or without backlight. Take a reflective-mode LCD panel display (glass only without backlight& driver IC) as an example, the estimated current is around 1mA, plus driving voltage 3.3V. Segment LCD Display requires very low power consumption, even battery or solar powered is enough.
Easy-custom
Thanks to affordable inexpensive cost, it is easy to choose a full-customized segment LCD display.
Actually, the typical display-information configuration is icons + 7-segment, which is exactly designed according to the specific application requirement, mostly is unsuitable for others. In other words few standard models suitable, mostly segment LCD display is customized solution.
The icons type could be not only universal common icons like battery symbol, tool symbols, but also customer self-defined symbols. The segment type of 7 / 14 /16 /20-segment is optioned to choose.
The numbers of icons and 7-segment could be customized according to the customer's display-information requirement. Besides, each segment's position, size, width even appearance-color is easy to design.
Applications For Segment LCD Display
We are elevotor manufacturer. The segment display of STN Blue other factories produced for us always look redish.  Whilet the background of STN Blue Bunsun produce looks pure clean dark-blue,  impressive great!

I am convinced that Bunsun's VA technology is advanced. Because their VA product has more black background with much higher contrast. And Bunsun is capable to produce full-view VA product for segment LCD display.

My product size is just 8x8mm. my former supplier's cost was high due to low yield rate, the main cause was said Liquid crystal leakage. With their own experience, Bunsun succeed to produce the mini LCD with reasonable yield rate, to decrease the cost 15%,  that's the best Christmas gift I get.
What is the operating temperature range of segment LCD Display?
Normally LCD display's operating temperature range is:
room temperature: 0-50C,
Wide temperature: -20~70C,
Extremely wide temperature: -30~80C
What is size limit of customized segment LCD display?
The mother glass size for segment LCD display is 14″ x 16″.
Theoretically speaking,  any size smaller is feasible to produce.  But when the size is too big or too small, the yeild rate will be low. The sepecific yield rate must be evaluated case by case.
What is the reliability gurantee for segment LCD display?
Both LC and polarizer are sensitive to temperature and humidity. We  have various of material options meeting different reliability condition requirement:
grade-1 : 85C*85%RH*1000 hours.
grade-2 : 60C*90%RH*1000 hours, or 80C*90%RH*500 hours
grade-3 : 60C*90%RH*500 hours,
grade-4 : 40C*90%RH*240 hours,
Generally, the wider temperature range, the higher reliability requirement level, the LC and polarizer material are more expensive.
How to choose different ITO glass thickness for my segment display project?
For ITO glass:
Thickness:1.1mm,0.7mm,0.55mm,0.4mm
Resistance Value:the main option is 100Ω, 80Ω, 60Ω, 30Ω,15Ω, 10Ω etc.
The thinner glass thickness or the lower resistance value, the cost will be higher.
Generally, The glass thickness will effect ty the whole LCD-panel thickness. The resistance value selection is decided by layout complexity.
How to do color printing for Segment LCD Display?
There are 2 types,
1- Black Mask.  The icon is printed inside LCD cell. The advanatage is it could be parament reversed and invisible when the LCD is off.
2. Color printing.  Either Color silking on the glass surface, or color-film sticking is OK.  The cost is much cheaper, but the color is always visible no matter LCD is on/off.